Hawthorne Heights
Stay Home Tour | Live Stream
Mark Rose of Spitalfield
Thursday, October 8, 2020 @ 8:30pm Pontiac, MI @ The Crofoot Ballroom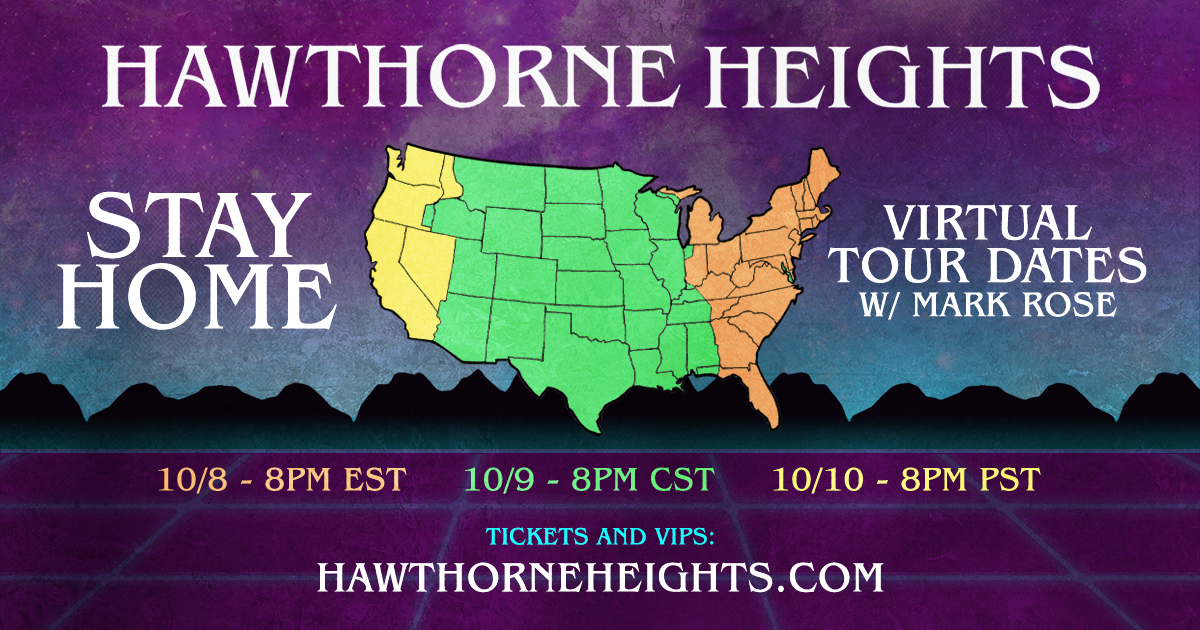 Hawthorne Heights STAY HOME Tour
wsg Mark Rose of Spitalfield
Thursday, October 8, 2020
Live Stream Starts at 8:45pm.
------------------------
Hawthorne Heights' STAY HOME tour will support The Crofoot on October 10th, 2020! This very special live stream tour gives fans the chance to grab their favorite drink, put on their favorite band shirt, and watch an EMO Rock N Roll show from the comfort of their own homes. Join JT, Matt, Mark and Poppy as they play games, tell stories, and of course, perform Hawthorne Heights songs, all while supporting The Crofoot as a staple on the Metro Detroit scene. The band will also be joined by special guest, Mark Rose, who will be performing hits from Spitalfield. Tune in for the live stream or bundle access with a virtual meet and greet and more - tickets are on sale now via 
https://hawthorneheights.com/
Package Offerings:
The Stay At Home Tour: with Hawthorne Heights - $12
● Access to the Stay Home Tour show on 10/10/20 at 8:45pm
Emo Trivia with Hawthorne Heights (VIP Package) - $60
● Access to the Stay Home Tour on (Date) at (Time)
● Exclusive virtual meet & greet with Hawthorne Heights after their set ends
● Personal photo from your virtual meet & greet downloaded directly to your phone
● Laminate, Button Pack and Big Back Patch
● Autographed Setlist
● Micro Batch Coffee
Faces in the Crowd VIP Upgrade - $25
(available to fans who have purchased the Emo Trivia with Hawthorne Heights VIP package)
Who doesn't like to see their face on the big screen? As an add-on to the other super fun VIP package, we will print out a picture of your face and put you in our virtual crowd. Our camera operators will feature you from time to time during the show. This makes an absolute banger surprise gift. Imagine you're watching with your friend, and they have no idea you purchased one of these special FACES IN THE CROWD VIPs, and BOOM...there they are! These are going to be so much fun. VERY LIMITED EDITION.